Edmund Kemper, who killed 10 victims between 1964 and 1973, is sick, depriving and terrifying murderous psychopath. He mainly targeted female hitchhikers and murdered his paternal grandparents and his own mother. He is also known as the 'co-ed killer.'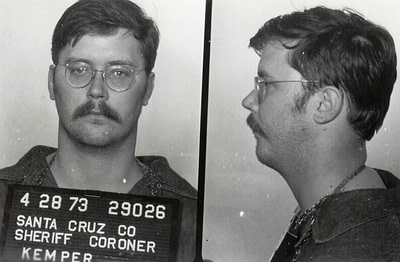 Santa Cruz County Sheriff's Office / Public domain
[NOTE: This article includes disturbing images]
Following the release of the hit Netflix show 'Mindhunter,' Kemper intrigued and frightened an entirely new generation of true crime fans as he was portrayed by actor Cameron Britton with eerie accuracy.
Such following facts illustrate precisely why he is considered one of the most frightening murderers who walked the planet – even decades after his eerie crimes took place.
10. He Mutilated Cats During Childhood 
Since a very young age, Edmund Kemper has been attacking and mutilating cats in his neighbourhood. John Douglas, the former FBI Special Agent, revealed that Kemper would bury the cat, dig it, then decapitate the cat, and impel its head. At the age of 13, he also killed his pet cat with a machete and hid the remains in his bedroom, which his horrified mother later discovered.
For young serial killers, their first shot at releasing tension is often to abuse animals. They start the process known as 'victim selection' and take their frustration out on the only thing that is often more susceptible than an animal itself. This aggression intensifies later in their criminal career, and they begin to prey on humans. Kemper represented no exception. He sought support from school counsellors but this was not helpful as he said, "When I was in school, I was labelled a pathological daydreamer and I saw a psychologist twice in junior high and high school, which was very normal.
They weren't asking me a lot of questions about myself and this was probably the most violent fantasy time I've ever been in.
9. He Killed His Grandparents Because He Was Bored 
Edmund Kemper ran away from his mother at the age of fifteen to escape her abuse and tried to track down his father but he rejected him. Instead, he was "shipped off" to live on their farm in the mountains of California with his paternal grandparents. 
Kemper said that he lived in "total solitude" with his "senile grandparents" and "my grandma who felt she had more guts than any other guy, so she always humiliated me and my grandfather to prove it." He said, "I couldn't appease her … it was like living in prison … I was a walking time bomb and I eventually blew … it was like that the second time, with my mother." 
In August 1964, Ed Kemper shot his grandma in her kitchen with a hunting rifle, and when his grandfather returned, he shot and killed him as well. Panicked, Kemper called his mother, and she told him to inform the police. When the police arrived, he told, "I just wanted to see how it felt to shoot Grandma."
8. He Stands 6ft 9″ Tall and Weighs 250 Pounds
Born on December 18, 1948, in Burbank, California, Edmund Kemper's parents had a tumultuous marriage, and his mother continued to be violent throughout her childhood. He later disclosed his mother's resentment resulting from his father looking too alike. At night, she would keep her son locked up in a cold, dark basement, while his sister was allowed to play freely upstairs.
He is 6 ft 9 "(2.05 m) tall and weighs more than 250 pounds (113 kg). He had already stood a foot taller than his classmates by the time he attended high school. Because of his stature and his high IQ of 145—he was able to psychologically and physically overwhelm his victims.
Investigators called him a "natural-born killer." The physical nature of Edmund Kemper combined with his traumatic upbringing produced a boiling pot of anger in the young killer.
7. He Managed To Fix The Psychiatric Results In His Favour 
Edmund Kemper was assigned to the California Youth Authority at Atascadero after the murders of his grandparents. Psychiatrists discovered Kemper suffering from delusional paranoia and he was admitted to the Atascadero State Hospital for Criminally Insane. Because of his extremely high Intelligence and seemingly friendly personality, he tried to persuade the hospital personnel to give him access to the test equipment. He memorized the answers used in the evaluation process and set his psychiatric test results in his favour.
He was then released from the hospital on his 21st birthday with a clean mental health record and was no longer required to return for further monitoring. Edmund Kemper was a liberal man. He returned to California and lived his mother but was just about to begin his real reign of terror.
6. He Used A Cunning Trick To Make His Victims Feel Safe
Kemper tried to become a state trooper upon his discharge from the hospital but was denied based on his height. With no prospects for work on the horizon, he became bored once more with his existence and, as we know from his previous crimes — a bored psychopath is a dangerous thing. He turned his attention instead to the region's high number of female hitchhikers. Kemper assassinated 18-year-old Mary Anne Pesce, 18-year-old Anita Luchessa, and Aiko Koo, 15, in 1972. He assassinated 19-year-old Cindy Schall, 23-year-old Rosalind Thorpe and 21-year-old Alice Liu in 1973.
"Few girls weren't very persuaded," Edmund Kemper said. So, I looked at my watch and I sighed like, 'Come on I don't have time.' And that convinced them—they had the impression that I was in a hurry and had no time to hurt them."
5. He Murdered His Mother In The Most Brutal Way 
The anger and hatred that Edmund Kemper felt for his mother eventually hit its boiling point in April 1973. His mother, Clarnell Stage, returned home after a night of drinking on Good Friday and started arguing with her son. Kemper then stepped into her bedroom and pummeled her with a hammer before chopping her throat with a knife. He then decapitated the body and later admitted that he was pinning his head to the wall and screaming at it for an hour while throwing darts. He also admitted to ripping out her voice box, which he felt fit because she had "bitched and screamed" at him too often over the years.
4. Ed Kemper Often Kept The Heads Of His Victims
Edmund Kemper was attacking women because he was reminded of his mother and his overall dislike of women. During an interview, he said, "There is a lot that leads to this happening, but this is what happened. They did not represent what was my mother, but what she loved, what she wanted, what was valuable to her, and I destroyed it.
He stabbed or strangled his victims and then decapitated and dismembered the body. Several discarded pieces of the corpse were found washed up at the beach and he buried heads in his mother's backyard. The other heads he holds as sickening serial killer 'trophies'.
He's famous for the line: "One side of me says, I'd like to talk to her, date her. The other side says, 'I wonder how her head will look like on a stick.' It was echoed in the film 'American Psycho' by the character of Christian Bale, Patrick Bateman, but the line was mistakenly attributed to Ed Gein.
3. He Confessed Everything To The Police Himself
Kemper fled his mother's home after her murder on Easter Sunday 1973 and made his way to Colorado. He knew that it wouldn't be long before the crime was connected to him and he called the police back to Santa Cruz to make a full confession. Initially, the police didn't believe his confession or were persuaded that they had found the suspected 'Co-Ed Killer.' 
Edmund Kemper had become close friends with local officers, frequently dining in pubs and restaurants with them. He referred to him as "Big Ed" and with time had learned a lot about the murders that helped him to foresee their next step in the investigation.
They believed that this was all a big prank from a friend who had become known as a friendly giant. Edmund Kemper had been waiting for an officer to come in and arrest him. He was deemed legally sane and when asked what he felt was a fitting punishment for his crime, he answered: "Death by torture."
2. He Terrified FBI Agent Robert K. Ressler During An Interview
From 1972 to 1973, Standford psychiatrist Donald Lunde interviewed Kemper. The guards would lock them both in a small room, and a panic button under the table would alert them when they were finished. Lunde stated, "I snickered at the thought that he would frighten me. He had no excuse to do so, and besides the panic button, he would immediately carry a squad of deputies." 
Edmund Kemper then reminded Lunde, "Has it ever dawned on you that I'm a foot taller and weighed about twice as much as I could." When Lunde hit the panic button the guards responded in seven minutes.
Former FBI investigator Robert K. Ressler had similar experiences with Kemper. Bundled in the same interview room, Ressler hit the panic button and the guards did not respond. Noting his fear, Kemper told him chillingly, "If I went apeshit in here, you'd be in a lot of trouble, wouldn't you? I might screw your head off and place it on the table to welcome the guard. " Thirty minutes later, the guards came into the room.
1. He's Still Around Today 
On 8 November 1973, Kemper was found guilty of first-degree murder. He was sentenced to life behind bars and is now in custody at the California Medical Facility. Since 1977, he has spent his time recording audiobooks and lent his voice to 'Flowers in the Attic,' 'The Glass Key' and 'The Rosary Murders' to name a few. He spent more than 5,000 hours in the recording booth at the jail and won two awards for his efforts. Nevertheless, the serial murderer has little desire to leave jail, because he is very happy to spend the rest of his life behind bars. He has waived his right to parole hearings since 1985.
In 2017, Edmund Kemper's lawyer said, "His feeling is that — and this is his belief — no one will ever let him out and he's just happy, he's just as happy about his life in prison. Kemper has been in prison for the remainder of his days at the age of 71 years, though at the time he wrote, in very good health; Kemper has outlived his victims for years." Above is an interview with Kemper, which I highly suggest. His behaviour is chilling.
Also Read: Ted Bundy – One of America's most wicked Serial Killers